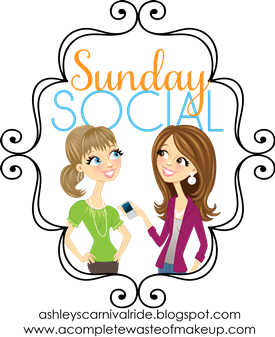 I had some free minutes today, so I wanted to come join in the fun. Even though the weekend is my time to be lazy..I do miss not being able to participate in the link up. So here I am :) *waves*
This Weeks Questions: Brought to you by the number 5
1.) 5 songs you'll listen to the rest of your life:
Anytime You Need a Friend- Mariah Carey
Faithful- Brooke Frasier
One Day In Your Life- Michael Jackson
Ah Yeah- Robert Glasper project featuring Musiq Soulchild & Chrisette Michelle
Until The End of Time- Justin Timberlake
2.) 5 things on your bucket list:
Lot's of World travel (mostly overseas)
Write a book
Hear one of my songs on the radio (something I've written)
See the Great Barrier Reef in Australia
Sing a duet with someone I admire
3.) 5 celebs you'd love to hang out with for a day:
Stevie Wonder
Justin Timberlake
Micahel Buble
Ola Svensson
Jessie J
4.) 5 things you always carry on your purse:
Lip gloss
Kleenex
Hand Sanitizer
Keys
Ninja weapons (wink wink)
5.) 5 books on your reading list: (Several of these titles have not been released yet)
3rd book in the Divergent series by Veronica Roth
Clockwork Princess by Cassandre Clare
Deep Betrayal by Anne Greenwood Brown
The Elite by Kiera Cass
Outpost by Ann Aguirre
6.) Share the Last six pictures on your phone:
I can only share 4 because my phone is being non-compliant.
Thanks for coming by and enjoy the rest of your weekend XoXo